Links
Following Grassland Birds from the Chihuahuan Desert to the Northern Great Plains
From Bird Conservancy of the Rockies
http://www.birdconservancy.org/winter-survival-on-the-wintering-grounds/
The Bird Conservancy of the Rockies captures and tags grassland birds in both the summer and wintering grounds to get an insider view into their lives. Check out the results of this year's winter survival survey.
Audubon Rockies Kiowa Creek Ranch and Sanctuary
http://rockies.audubon.org/conservation/audubon-rockies-kiowa-creek-ranch-and-sanctuary
High Country Land Management/Corner Post Meats
http://www.cornerpostmeats.com/Articles.asp?ID=267
Learn about how High Country Land Management creates healthy ecosystems for grassland birds and other grassland species.
Bird Conservancy of the Rockies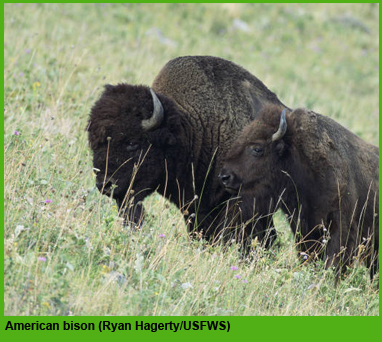 http://www.birdconservancy.org/
Bird Conservancy of the Rockies conserves birds and their habitats through an integrated approach of science, education and land stewardship. Our work radiates from the Rockies to the Great Plains, Mexico and beyond. Our mission is advanced through sound science, achieved through empowering people, realized through stewardship and sustained through partnerships. Together, we are improving native bird populations, the land and the lives of people.
Black-footed Ferret Recovery Program
http://blackfootedferret.org/
The Black-footed Ferret Recovery Implementation Team (BFF RIT) was created in 1996 to integrate the expertise and resources of various partners contributing to recovery of the black-footed ferret. BFF RIT is a multi-agency conservation effort led by the U.S. Fish and Wildlife Service and includes representatives from federal, state and tribal governments, zoos, private landowners and nonprofit organizations.
Grasslands
From National Geographic
http://environment.nationalgeographic.com/
environment/habitats/grassland-profile/
Grasslands go by many names. In the U.S. Midwest, they're known as prairies. In South America, they're called pampas. Central Eurasian grasslands are referred to as steppes, while in Africa they're named savannas. What they all have in common is grass as their naturally dominant vegetation. Grasslands are found where there is not enough regular rainfall to support the growth of a forest, but not so little as to form a desert.
Grasslands and Climate Change
From the US Forest Service
http://www.fs.usda.gov/ccrc/topics/grasslands
The grassland ecosystems we see today have an extensive history of human activity and disturbance. In response to these alterations, many native U.S. grasslands and grassland species are in decline and climate change is expected to add to or exacerbate existing stressors that threaten these ecosystems. Although there are serious causes for concern, climate change may represent an opportunity to develop a broader, more responsive, and collaborative management paradigm.
International Migratory Bird Day/Environment for the Americas
International Migratory Bird Day events educate youth and adults about migratory birds, the threats to their populations, and ways to take action to protect them.
http://www.birdday.org/educate/download-materials
For an abundance of resources to help teach about birds or organize events, check out
http://migratorybirdday.org/ or http://www.birdday.org/educate/download-materials.
Midewin National Tallgrass Prairie
From the USDA Forest Service
http://www.fs.usda.gov/midewin
Midewin National Tallgrass Prairie is the first national tallgrass prairie and, at 19,000 acres, the largest piece of contiguous open space in northeastern Illinois.
Passport in Time Volunteers
From the U.S. Forest Service
http://passportintime.com/
Passport in Time (PIT) is a volunteer cultural heritage resources program sponsored by the US Forest Service, and which now includes such partners as the Bureau of Land Management (BLM), some State Parks and work with Historicorps. PIT volunteers work with professional archaeologists and historians on public lands throughout the U.S. on such diverse activities as archaeological survey and excavation, rock art restoration, archival research, historic structure restoration, oral history gathering, and analysis and curation of artifacts. The professional staff of archaeologista, historians, and preservation specialists will be your hosts, guides, and co-workers.
Picket Wire Trail
From the U.S. Forest Service
https://www.fs.fed.us/visit/destination/picket-wire-trail
The largest known dinosaur track site in North America, the Picket Wire Canyon Trail features more than 1,400 individual tracks left by the plant-eating Brontosaurus and the carnivorous Allosaurus on 100 separate pathways. The tracks' arrangement offer paleontologists insight to the dinosaurs' behavior. For example, parallel tracks among the Brontosaurus footprints indicate that these dinosaurs may have traveled in groups and suggests social behavior in these creatures.
Plowprint Report
From the World Wildlife
https://www.worldwildlife.org/projects/plowprint-report
Temperate grassland ecosystems are the least protected biomes on the planet. Worldwide, these important habitats are being lost at an alarming rate due to a number of factors that include the production of food and fuel for a growing human population. Their decline is having a significant impact on species such as grassland birds, and the ecosystem services these grasslands provide—ranging from carbon sequestration to water infiltration—are also being highly affected.
Prairies
From the Champaign Public Library
http://www.champaign.org/justkids/homework_help/science_and_environment/prairies
Here are the best websites and books with general information about prairies. Follow the links to learn about prairie wildlife,plants, and prairies to visit near Champaign-Urbana in Illinois.
Prairie Resources and Webliography
From CampSilos
http://www.campsilos.org/mod1/teachers/r_index.shtml
Here's a great resource with many links about prairies.
Prairie Wildlife Research
http://www.prairiewildlife.org/index.html
The Prairie Wildlife Research (PWR) web site has outstanding information about the animals of the prairie. PWR works throughout the Great Plains with federal and state agencies, universities, private landowners, and other non-governmental organizations to conduct timely, economical, and quality studies and projects that contribute to sound management decisions. PWR's focus includes all wildlife species inhabiting the prairie. Projects include surveys, reintroductions of native species, habitat enhancement projects, and working with others to resolve wildlife-related issues.
Welcome to Your National Grasslands!
From the US Forest Service
http://www.fs.fed.us/grasslands/
These wind-swept seas of grass and wildflowers – four million acres in all – have witnessed the pageant of the frontier, the Dust Bowl, and the dramatic recovery into a great national treasure. Come visit the 20 publicly-owned National Grasslands administered by the USDA Forest Service.